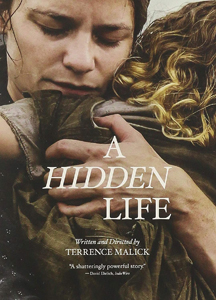 A Hidden Life (2019)
Terrence Malick's newest film marks a radical departure from his previous work. A Hidden Life was nominated for the Palme d'Or at the 2019 Cannes film festival. And for those who have long wondered whether the famously private Malick is a Christian, A Hidden Life will provide more grist for the mill.
Malick's recent trilogy of films explored the lives of what you might call Hollywood hipsters. These people are young, attractive, wealthy, and decidedly secular. Their lives look fun. They make your own life feel dull and boring. You almost envy them. In Knight of Cups (2015), a self-indulgent LA screen writer drifts through the movie staring into space and searching for some meaning. Song to Song (2017) follows two couples in Austin, Texas, who specialize in hedonistic excess. In To the Wonder (2012), Javier Bardem plays a priest who struggles with all the pain, sorrow, and degradation that he observes: "All I see is failure, destruction, and ruin."
A Hidden Life depicts the improbable witness of one of the most courageous Christians that you've never heard of: a peasant farmer from Austria with an eighth-grade education. Franz Jägerstätter (1907–1943) openly protested the Nazis. He was arrested and imprisoned as a conscientious objector, accused of Wehrkraftzersetzung — undermining the military morale, and sentenced to death in a military trial. On August 9, 1943, Jägerstätter was executed by guillotine at the age of thirty-six.
In telling Jägerstätter's story, Malick is just warming up to his task. He's already shooting his next film. It's called The Last Planet, and it tells the story of Jesus in a series of parables.
Dan Clendenin: dan@journeywithjesus.net