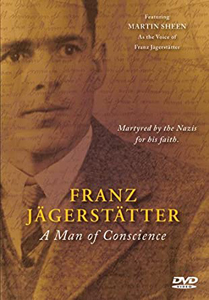 Franz Jägerstätter: A Man of Conscience (2009)
This simple, 24-minute documentary tells the improbable story of one of the most courageous Christians that you've never heard of: a peasant farmer from Austria with an eighth-grade education. Franz Jägerstätter (1907–1943) was born "out of wedlock" in a small village near Salzburg. His mother was a maid, and his father was a farmer. After his father was killed in World War I, and his mother remarried in 1917, Jägerstätter took the last name of his step father. Like many people of that time and place, he lived a hard life as a miner, a farmer, and, if legend is right, a hell raiser.
But his life changed dramatically when, on Maundy Thursday in 1936, he married a devout Catholic woman named Franziska Schwaninger (1913–2013). Under her influence, the couple made a pilgrimage to Rome. Jägerstätter began to study the Bible and the lives of Christian saints. He became the sacristan (sexton) of his local church. They had three daughters.
In 1938, German troops entered his village of Radegund. In April of that year, Jägerstätter was the only person in Radegund to vote against Hitler's annexation of Austria. He openly protested the Nazis. After four deferrals from military service, on June 17, 1940, Jägerstätter was conscripted into the German army. But he refused to take the oath to Hitler, despite pressure from his fellow villagers and the church bureaucrats to obey the orders and get into line.
Jägerstätter was arrested and imprisoned as a conscientious objector on March 1, 1943, despite his willingness to serve as a medic. He was accused of Wehrkraftzersetzun — undermining the military morale, and sentenced to death in a military trial. On August 9, Jägerstätter was executed by guillotine at the age of thirty-six.
Dan Clendenin: dan@journeywithjesus.net