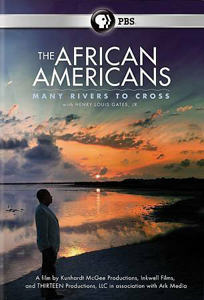 The African Americans: Many Rivers to Cross (2013)
This epic and award-winning documentary miniseries was written by Harvard professor Henry Louis Gates Jr., in collaboration with some 30 other historians, and originally aired on PBS in the fall of 2013. It consists of six episodes that cover 500 years of black history. In early 2014 a two-DVD set was also released. The six episodes are all about one hour long:
Episode One: "The Black Atlantic" (1500–1800).
Episode Two: "The Age of Slavery" (1800–1860).
Episode Three: "Into the Fire" (1861–1896).
Episode Four: "Making a Way Out of No Way" (1897–1940).
Episode Five: "Rise!" (1940–1968).
Episode Six: "A More Perfect Union" (1968–2013).
According to the PBS movie website, the miniseries "explores the evolution of the African-American people, as well as the multiplicity of cultural institutions, political strategies, and religious and social perspectives they developed — forging their own history, culture and society against unimaginable odds. Commencing with the origins of slavery in Africa, the series moves through five centuries of remarkable historic events right up to the present — when America is led by a black president, yet remains a nation deeply divided by race." See here to watch this remarkable resource:
https://www.pbs.org/wnet/african-americans-many-rivers-to-cross/video/
Dan Clendenin: dan@journeywithjesus.net