For Sunday January 3, 2016
Lectionary Readings (Revised Common Lectionary, Year C)
Jeremiah 31:7-14
Psalm 147:12-20
Ephesians 1:3-14
John 1:1-18
In her book The $11 Billion Year; From Sundance to the Oscars, An Inside Look at the Changing Hollywood System (2014), Anne Thompson writes that there are about 700 films released in the United States every year. If that's the case, then why do I find it so hard to find a movie that I really want to watch? Time and again, when I look for movies to review for JwJ, I'll search Netflix, Amazon, Comcast, and the local theaters, only to be stymied.
But there are some films out there that are not only good but great. Here are a half dozen of my favorites from 2015.
And don't forget, JwJ has reviews of movies from nearly 100 countries. If you go to our comprehensive index of movies, you can search by country or by title. And if you get stuck, go to the "search" function in the upper right corner of any page, and type in any word at all.
Happy viewing!
Cancer: The Emperor of All Maladies
A text from Egypt four thousand years ago lists all the known illnesses of that day, including what we now call cancer. Under the column "treatment," the author writes, "there is none." The documentarian Ken Burns joined with PBS to make a three episode film (six hours total) on the Pulitzer Prize-winning book by Siddhartha Mukherjee entitled The Emperor of All Maladies; A Biography of Cancer (2011). As you would expect from Burns, the film is equal parts science, medicine, history, and sociology. "The story of cancer," according to the PBS website, "is a story of human ingenuity, resilience, and perseverance, but also of hubris, paternalism and misperception." It's shocking to see how we treated cancer patients a generation ago; and equally shocking to see the progress made. You can watch all three episodes for free at the PBS website.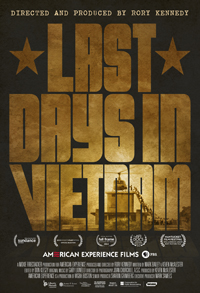 This 84-minute documentary by PBS Frontline about transgender teens does many things well. The film follows a half dozen pre-puberty adolescents and their parents, allowing them to tell their own stories in their own words, without any prompts from a narrator. What emerges is a very complex set of circumstances that deserves our unconditional compassion and support. The film avoids being sanguine or politically-correct, especially about the difficult choices of medical treatments — puberty blockers, cross sex hormones, and sexual reassignment surgeries, and the collateral problems that often accompany transgendering — bullying, loneliness, sleeplessness, suicidal ideation, depression, and anxiety. You can watch this powerful movie online for free at Frontline, including additional material like other videos, chat rooms, and reader comments with further stories.
Last Days in Vietnam (Vietnam)
In the Paris Peace Accords that ended the Vietnam war in 1973, the United States promised to protect South Vietnam from any aggression by the communist North Vietnam. We broke that promise. After Nixon resigned from office after Watergate, North Vietnam began its assault on the south. By 1975 they were at Saigon, and the real end of thirty years of war was apparent to all. Chaos enveloped the city. Citizens and soldiers sought to escape by any means. This documentary gives an hour-by-hour account of how American military personnel defied orders to evacuate only Americans, in order to evacuate 77,000 Vietnamese from the American Embassy in Saigon in the weeks before it fell to the north. This isn't a political film, it's a story of the moral courage of some Americans who did their best to do what was right in a horrible situation. Archival footage and interviews combine to make a film of inspiration and sadness. The movie is directed by Rory Kennedy, the daughter of Robert F. Kennedy and niece of JFK.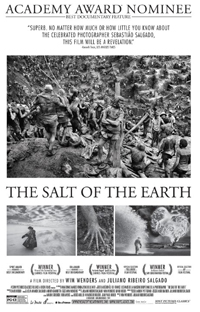 The Salt of the Earth (Brazil)
The German film maker Wim Wenders documents the life and work of the Brazilian photographer Sebastiao Salgado (b.1944), who has traveled in over a hundred countries across the last forty years to bear witness to the invisible people of human history. The film contains a stark moral-aesthetic paradox, as observed by A.O. Scott — the black and white photographs are breathtakingly beautiful, whereas the subject matter is deeply disturbing. Gold miners in Brazil, starvation in Sudan, forced migrations, genocide, etc. The title of the film comes from the Bible, as do the titles of two of Salgado's books, Genesis (2013) and Exodus (2002). In French and English, with English sub-titles.
Timbuktu (Mauritania)
This drama by director-writer Abderrahmane Sissaki of Mauritania shows what happens when jihadists take over the ancient city of Timbuktu in Mali (which actually happened in 2012). Women must wear gloves and socks. Smoking and music will get you a public whipping. One couple is buried up to their necks and stoned to death for adultery. Soccer is prohibited. The story focuses on a family of herders that lives in the sand dunes on the outskirts of town. They struggle to live according to the ancient ways of their culture, while incorporating elements of modern society like mobile phones and resisting religious extremism. This film was nominated for Best Foreign Language Film for the 2015 Oscars, won two awards at Cannes, and has a whopping 98% rating on the Tomatometer. The film is in French, Arabic, Bambara, Tuareg, English, and Songhay, which polyglot mashup indicates the cultural clashes at play.
Virunga (Democratic Republic of Congo)
The Virunga National Park in Congo is one of the most beautiful and environmentally rich places on earth, but it struggles for survival in one of the world's most violent countries. This Netflix Documentary tells the story of the brave park rangers who have given their lives to save Virunga, and in particular its population of mountain gorillas. They face formidable odds. First, there are the poachers. Next, since the 1994 genocide in next-door Rwanda, Congo has been the site of the deadliest conflict since World War II, with over five million deaths. Over a dozen different rebel militias seek control of the government, land, and the mineral wealth. Then, there's the newly discovered oil underneath Lake Edward, concessions to which have been given to the rapacious British oil company SOCO. This film has won at least 23 international awards. I watched it on Netflix Streaming. In French and English, with subtitles.