For Sunday January 5, 2020
Lectionary Readings (Revised Common Lectionary, Year A)
Jeremiah 31:7-14
Psalm 147:12-20
Ephesians 1:3-14
John 1:1-18
In his book Sculpting in Time (1986), the Russian filmmaker Andrei Tarkovsky says that "the allotted function of art is not, as is often assumed, to put across ideas, to propagate thoughts, to serve as an example. The aim of art is to prepare a person for death, to plough and harrow his soul, rendering it capable of turning to good."
These five films "ploughed my soul," and, I pray, "rendered it capable of turning to good."
And don't forget — you can search JwJ's 800 film reviews from 110 countries by title or by country. Just use the drop down menu under "Film" at the top of any page.
Apollo 11 (2019)
This past summer marked the fiftieth anniversary of the Apollo 11 mission that landed the first two people (Neil Armstrong and Buzz Aldrin) on the moon on July 20, 1969. The Vietnam war was raging. Nixon was president. King and Kennedy were assassinated the year before. But the event was broadcast on live television across the globe, and brought the entire world together if only for that eight day mission. I was thirteen years old, and still remember how Armstrong descended the ladder of the lunar module Eagle and declared, "that's one small step for man, and one giant leap for mankind." This 90-minute documentary film edited, produced, and directed by Todd Douglas Miller tells that remarkable story. There is no narration or any interviews in the film (although it does have a powerful soundtrack), just archival footage that until now has never been released to the public. The film had its debut at the 2019 Sundance festival. On Rotten Tomatoes Apollo 11 has an approval rating of 99%. Sure, this film is partly a history lesson, but it's mainly a huge adrenaline rush (even though we know what happens), from blast off to splash down.
The Ballad of Buster Scruggs (2018)
This quirky film by Joel and Ethan Coen earned three nominations for the 2019 Oscars, including Best Adapted Screenplay, Best Costume Design, and Best Original Song. It was also listed on numerous "top ten" films of the year lists. The movie is a good example of the changing distribution channels and funding of even mainstream movies — the film was available on Netflix just one week after its release in nationwide theaters. The genre here is unique: it's really a mini-anthology of six unrelated vignettes that are set in America's wild west, and that feature the likes of James Franco and Liam Neeson. The episodes include a guitar strumming gunslinger, a bank robber, a traveling entertainer, an elderly prospector, a wagon train, and a perverse pair of bounty hunters. As you would expect from the Coen brothers, there is gratuitous violence, absurdist and black humor, romance, poignant drama, and spectacular scenery from the filming in New Mexico, Nebraska, and Colorado. There is also their signature reflection on our human condition. We often valorize the wild west, but for the Coens it was also a violent and even nihilistic time and place.
Bohemian Rhapsody (2019)
This biopic about Freddie Mercury, the lead vocalist for the British rock band Queen, is the classic splitter. General movie audiences loved it, with a 98% rating on "Google users liked this movie." Professional movie critics unanimously panned the movie as historically inaccurate, formulaic, superficial, and melodramatic in the worst sense. I think both opinions are right. Mercury's story is inherently interesting, even if poorly told. He was born as Farrokh Bulsara into a Parsi (Zoroastrian) family in Zanzibar. His family moved to India, and then to England, where he changed his name to Freddie Mercury and helped to form Queen while working as a baggage handler at Heathrow. He was famously flamboyant on stage, bisexual, and died of AIDS-related pneumonia in 1991 at the age of forty-five. The movie traces the meteoric rise of Queen, and then Mercury's decision to go solo. The band then reunites to rock the house at Wembley Stadium for a global audience of nearly two billion people in 150 countries at the 1998 Live Aid benefit concert. The title of the movie comes from Queen's 1975 song of the same name, which their producer refused to record because he considered it an incoherent mishmash that was way too long at six minutes, and which was horribly criticized when it was released, but then went on to be a wildly popular song.
Rocketman (2019)
The most important thing to know about this biopic about Reginald Kenneth Dwight (born 1947)—Sir Elton John—is that it was produced by his husband David Furnish (a film maker) and that John himself was one of the executive producers. We can imagine, then, that every last detail in the film has John's seal of approval — director Dexter Fletcher, the script by Lee Hall, the sound track and its arrangements of twenty-two of John's hits, the casting, the choreography, the cinematography, the production design, the editing, etc. I especially liked the mixed genres of straight forward narrative, musical, documentary, and magical realism. In the first minute of the movie, John, dressed in a flamboyant orange devil suit with huge wings and horns, walks into an AA meeting of circled chairs and announces, "My name is Elton, and I'm an alcoholic, a cocaine addict, and a sex addict. I'm bulimic. I also have problems with shopping." By repeatedly cutting back to this first scene, it's made clear that this is John's story of redemption, not just from substance abuses, but from the wounds of an emotionally distant nuclear family that did not know how to love a young gay child who was also a musical prodigy, aggravated by global fame, money, debauchery, and corruption when he was only twenty-five. The movie ends in that same AA circle, with the appearances of all the key players in his life, and John making his peace about his personal identity. And thank God he survived; he and his lifelong lyricist Bernie Taupin produced 30 albums and 300 million records. A note at the end of the movie says that John has been sober for over twenty-eight years, and that he has raised $450 million for his HIV-AIDS foundation. This film premiered at the 2019 Cannes film festival.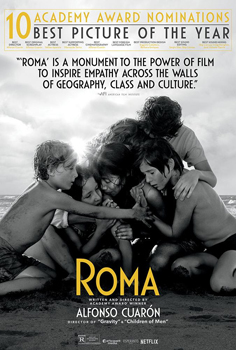 Roma (2018) — Mexico
This black and white dramatic memoir received ten Oscar nominations, including Best Picture and four nominations for Alfonso Cuarón as the producer, writer, cinematographer, and editor. There are different ways to watch the film, but Cuarón makes his intentions clear at the end of the movie when, as the credits begin to roll, he dedicates it por Libo, that is, in loving memory of his real life nanny Liboria Rodríguez, who served his family when he was a little boy. The protagonist in the film is a Mixteco girl named Cleo, who like many people from her indigenous background has left her own family in the impoverished countryside to find a better life in the city. She is the live-in maid for a family of seven in the Roma neighborhood of Mexico City (where Cuarón grew up) around 1970. On the one hand, because of her background, Cleo is a powerless person who is subject to socioeconomic forces far beyond her control. On the other hand, her life as a maid is a vast improvement, thanks to good money for reasonable work in a loving city family. Cleo is also a savior and hero. She loves the family's four children more than her own. But whether rich or poor, suffering often knocks at all of our doors. At about the same time in this movie, the two women, Cleo and her employer, the mother Sofia, both suffer bitter treatment by their men. No wonder the film includes scenes of an earthquake, hail, a forest fire, and a pounding ocean surf that will suck you right under. I watched this film on Netflix Streaming.
Dan Clendenin: dan@journeywithjesus.net