Film Reviews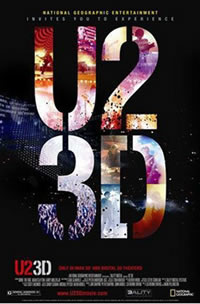 U23D (2008)
Review by David Werther
C.S. Lewis once reflected on the difference between looking at a beam of light coming through the roof of a shed, and looking along that beam of light. Looking at the beam one sees dust motes; looking along the beam one sees the sky. "Looking at" is the 3rd-person perspective, the neurologist's point of view: neurons firing. "Looking along" is the 1st-person perspective, the patient's point of view: sorrow, love, pain, and joy. The 3rd-person vantage point is outside and impersonal; the 1st-person point of view is inside and personal.
Watching a concert film is often self-defeating. The visual images distract us from the music, sometimes forcing us to experience the show from the outside, when the whole point of live music is to enjoy it from the inside. The brilliant performances of U2 and the 3D technology in U23D change this; they push us into the show. At times I felt goose bumps; my eyes watered; and at the end of the concert I applauded, and was not the only one in the theatre clapping.
Much of the film was shot in Buenos Aires, Argentina. The 14-song set list includes: "Vertigo," "Miss Sarajevo," "Bullet the Blue Sky," "The Fly" and "Yahweh." And, there is a reading of the Universal Declaration of Human Rights. In my experience of the show, the first encore of "The Fly" and "With or Without You" was jarring and disturbing. Bono once described "The Fly" as a phone call from hell from a guy who is enjoying it there. At that point of the show I wished I were seeing hell from the outside instead of experiencing its noise and confusion on the inside. To be sure, the show ends with "Yahweh," a song of redemption, but I was too shell-shocked from "The Fly" to fully find healing in that song. And, the song played over the credits, which significantly undercut its impact.
In his autobiography, Surprised by Joy, C.S. Lewis writes about a "sweet Desire" that "cuts across our ordinary distinctions between wanting and having. To have it is, by definition, a want, to want it, we find, is to have it." I experienced something of that wanting and having in the 6-song sequence: "Sunday Bloody Sunday," "Bullet the Blue Sky," "Miss Sarajevo," the reading of the Universal Declaration of Human Rights, "Pride (In the Name of Love)," "Where the Streets Have no Name," and "One." However, it would not only be pointless but self-defeating to try to dissect the connection between that desire and U2's performances of these songs; the point is not to look at dust motes, but to see the sky.