Inseparable Love
For Sunday July 24, 2005
Lectionary Readings (Revised Common Lectionary, Year A)
Genesis 29:15–28, or 1 Kings 3:5–12
Psalm 105:1–11, 45b, or Psalm 119:129–136
Romans 8:26–39
Matthew 13:31–33, 44–52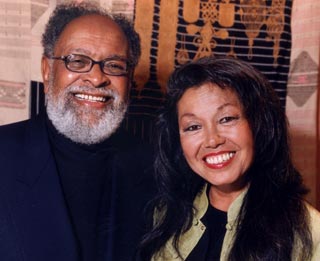 Cecil Williams and wife Janice Mirikitani.
A few weekends ago I took a break from our Presbyterian church to worship at historic Glide Memorial United Methodist Church. Founded in 1929 at the corner of Ellis and Taylor Streets in San Francisco's seedy Tenderloin district, Glide stepped into the national limelight in 1963 when it hired the young Afro-American firebrand Cecil Williams as its pastor. Across the last forty-two years, Williams has boldly proclaimed God's unconditional acceptance to a spectacle of radical and radically disenfranchised groups—including a Hookers Convention, the American Indian Movement, the Black Panthers, and, of course, the city's considerable gay community. In 1964 Williams founded the Council on Religion and Homosexuality, a full five years before the 1969 Stonewall riots between gays and police in New York City that marked the beginning of the gay rights movement.
I was especially moved by one song that the Glide Ensemble sang, the refrain of which captures Paul's words from Romans for this week: "God will take care of you." The weekend I worshipped at Glide also coincided with San Francisco's Gay Pride weekend. As I stood among the thousands of people along Market Street and watched the three hour extravaganza, I could only think how far I was from the little town and church in North Carolina where I grew up. It is hard to relate to something so far removed from your personal experience.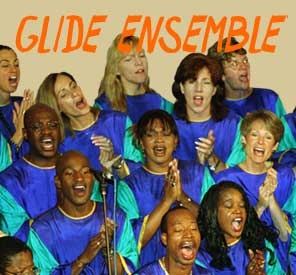 The Glide Ensemble.
But it is not hard to relate to experiences of exclusion, indifference, disenfranchisement, hate, humiliation, and separation, and the longing to believe that God is really and truly for you. Every human being has experienced these, each in their own way. The genius of Glide has been to pro-actively stand at the swirling vortex of almost any and every form of human pain, violence, despair and hopelessness that you can imagine—homelessness, unemployment, HIV-AIDS, psychiatric disorders, racism, drug abuse, and the like, and standing there to proclaim without equivocation, "God is for you!" Their free health clinic, a meal program that serves a million free meals a year, job training, and 50 other ministries underscore their commitment to that pastoral proclamation: "God is for you, and nothing can separate you from God's love!"
The epistle for this week contains Paul's famously debated comments about God's election, foreknowledge, calling, and predestination. But instead of theological speculation about who is excluded by these mysteries, his clear interest is pastoral consolation about who is included in God's love. His message is uncompromising: "nothing in all of creation can separate us from the love of God" (Romans 8:39). As I take my high lighter to this passage, I count at least twenty demons that threaten to undo us mentioned by Paul—suffering, weakness, frustration, bondage to decay, ignorance, trouble, hardship, persecution, famine, nakedness, danger, sword, death, life, angels, demons, powers, the present, the future, heights, depths, and as if that were not enough, "anything else in all creation." None of these can separate you from God's love. You can personalize your own list, too: parents, children, your boss, employees, colleagues, foolish choices, bedeviling sins, public failure, private disappointments, anxieties, school, a bad business deal, and on it goes. Paul remains adamant in his conviction: nothing can separate you from God's love.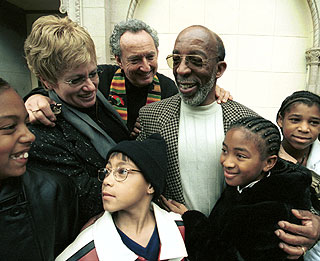 Reverend Douglass Fitch and Glide parishoners.
If you consider Paul's own Christian journey you realize that his unequivocal language is not pious cliche, not mere metaphor, but a deeply held conviction born of his personal experiences. A few days after his conversion God promised him that he would suffer much for His kingdom (Acts 9:15–16), and that "prison and hardship" awaited him in every city (Acts 20:23). And so it did. Brutal treatment, constant harassment, and strong opposition were his regular fare (1 Thess. 2:2, 2 Cor. 7:5, 1 Cor. 4:11). In the book of Acts alone Luke records at least eight murder attempts on Paul's life (Acts 9:23–24, 9:29, 14:5–7, 14:19, 20:2–3, 21:31, 23:12, and 25:3). Paul reckoned that he and the first apostles were likened as sheep to a slaughter; people in last place; public spectacles; dishonored fools; vagrants who were hungry, thirsty, homeless and in rags; and in those memorable words, "the scum of the earth, the refuse of the world" (1 Cor. 4:8–13). Is anyone weak without my being weak, he asked? Ultimately, he was martyred in Rome. Through all of this and more, Paul remained insistent: nothing in all of creation can separate you from God's love.
When you feel alienated, separated and estranged, perhaps by others or even by or from your own self, when you sense that everyone and everything is against you, it is easy to forget Paul's declaration that God is unequivocally for you. But reality can be different than appearances. In the Gospels for this week Jesus compares his kingdom to a tiny mustard seed, something insignificant rather than extravagant, fragile and not mighty, unlikely rather than intuitive. His kingdom can also be imperceptible, like yeast leavening a batch of dough—something difficult to detect unless you look carefully, not obvious or apparent, even though you know it must be there somewhere. His kingdom is also like a fishnet containing the good and the bad together, or a field of wheat infested with weeds (Matthew 13:31–33, 44–52). Despite these and other outward obscurities of appearances, the ultimate reality of His kingdom is that God's love is unconditional and inseparable. Everything else is penultimate.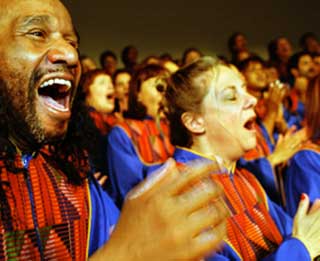 Glide Memorial Church
In the Old Testament passage for this week King David's son Solomon had a dream that is the stuff of childhood fantasies: God invited him to ask for anything he wished (1 Kings 3:5–12). I can easily imagine wishing to change any number of my outward circumstances. I am sure that the many people in San Francisco's Tenderloin district whom Glide Memorial Church serve would feel the same. But Solomon, we read, asked for "a discerning heart." A discerning heart sees beyond social stigmas and cultural conventions to affirm that despite your sense of alienation, nothing in all of creation can separate you from the love of God in Christ. A discerning heart believes that God is unconditionally for you, and in so believing accepts God's acceptance.