Book Reviews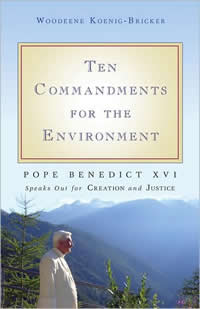 Woodeene Koenig-Bricker, Ten Commandments for the Environment; Pope Benedict XVI Speaks Out for Creation and Justice (Notre Dame, Indiana: Ave Maria Press, 2009), 152pp.
In this little book about (not by) Pope Benedict XVI, Koenig-Bricker summarizes the pope's environmental theology. She combs through his many homilies, speeches, addresses, and teachings, and those of the magisterium's broader teaching office, and cherry picks what she considers to be his most salient statements on the subject. She then inserts a litany of Benedict's quotations in a cut-n-paste manner into her own narrative.
The "ten commandments for the environment" did not originate with Pope Benedict. They come from Bishop Giampaolo Crepaldi in a 2005 conference on ethics and the environment. According to Crepaldi, they "explain in ten points the most important aspects of the chapter on the environment in the Compendium of the Social Doctrine of the Church (2004). And even though Benedict "has yet to publish an extensive statement on environmental issues," Koenig-Bricker says that the ten commandments by Crepaldi "reflect the essence of [the pope's] teaching and message." After two introductory chapters, one chapter is devoted to each of the ten commandments.
Benedict takes a complementary approach toward the relationship between science and religion in general, and between evolution and faith in particular. Science needs ethics. Technological means help us to manipulate the environment, but only moral ends can give guidance as to why, when, where, and how. I especially appreciated the many current examples given by Koenig-Bricker, like Easter Island, genetically modified organisms, the Three Gorges Dam, and so on. The doctrine of creation about earthly life is intimately connected with the doctrine of redemption about eternal life. Creation is not divine (Gaia), nor does it enjoy an absolute value. Nor should we demean creation, for it is a gift from God to humanity that we must use wisely and well rather than abuse. An ethic of the environment grapples with broader social issues like our culture of consumerism, and legal issues of collaboration on international treaties. Sustainable economic development must include the "universal destination of goods" (104), the idea that earth, air, water, food and energy belong to all humanity and not to the privileged, powerful minority. Perhaps the most important take away from this short book is its insistence that being green is a matter of Christian ethics as much as it is about political ecology.