Book Reviews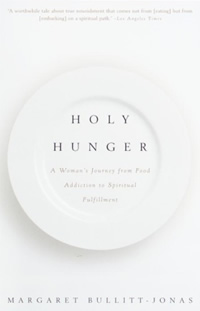 Margaret Bullitt-Jonas, Holy Hunger; A Woman's Journey from Food Addiction to Spiritual Fulfillment (New York: Knopf, 1998, and Vintage, 2000), 255pp.
I read Holy Hunger because I have a friend who is struggling with an eating disorder and because I had the pleasure of meeting Bullitt-Jonas at a conference. I was glad I did. Bullitt-Jonas is an Episcopal priest, writer, environmental activist, retreat leader, Harvard PhD, marathon runner, and spiritual director. She was also a food addict who writes to share the lessons she learned about compulsive overeating.
Bullitt-Jonas began binge eating in the tenth grade. By the time she was thirty food controlled her body, mind and spirit. She describes her late night forays to the grocery store where she would furtively buy her "drug of choice." Sometimes she would inhale an entire box of donuts in the car. Other times she would wait until she returned home to consume an entire pie at her kitchen counter. In one four day period she gained eleven pounds; on another occasion she did not eat anything for ten days. In one of many turning points, the pleasant lies told at the funeral of a colleague who had committed suicide outraged her. How could the family lie so badly about what had happened?
And then the penny dropped. Much of Bullitt-Jonas's book is about unearthing her family archaeology of enormous wealth but deep dysfunction. Her grandparents' home was lined with paintings of Picasso, Matisse, and Gaugin. Boarding school in Switzerland and Maryland was followed by Russian studies at Stanford and then Harvard. Her parents were polar opposites. Her mother was taciturn, private, and emotionally distant. Her father, a Harvard professor, was a volatile and verbal alcoholic who loved to sail his boat directly into a storm. In between were the people-pleasing, the peace-making, the perfectionisms that were pleas for love, and the emotional starvation not for food but for human affirmation. Over it all was an unspoken compact of silence: "we didn't do feelings in my house." The wealth could not cloak the deep emotional, psychological and spiritual poverty of everyone involved.
Eventually Bullitt-Jonas connected with Overeaters Anonymous and Adult Children of Alcoholics. She took an acting class, enrolled in Buddhist meditation, met the man she eventually married, and even rejoined her church community, all of which helped her to listen to her own voices, to discover her personal identity apart from her family, and to begin writing a new story. In the end, she construes her story as a memoir about desire, "the desire beyond all desire," as she puts it. Her words reminded me of the opening sentences of Augustine's Confessions, that "God has made us for Thyself, and our hearts are restless until they find their rest in Thee." There are no victims or villains here, no shaming and blaming, either of herself or of her family. Rather, Bullitt-Jonas has written a beautiful story of redemption that combines courageous truth-telling with tender compassion. I hope she will write a sequel.