Book Reviews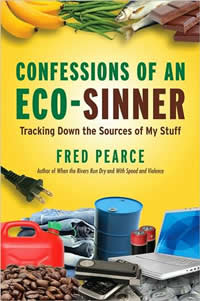 Fred Pearce, Confessions of an Eco-Sinner; Tracking Down the Sources of My Stuff (Boston: Beacon Press, 2008), 276pp.
By now we've all heard of our "carbon" footprint. Fred Pearce is interested in his personal footprint. Just how much was that Tanzanian farmer paid in so-called "fair trade" wages for his pound of coffee that Starbucks sells for (answer: about jumi.46)? What little girl in Bangladesh sewed your socks? Sure, you sort your garbage for curbside pickup and recycle as best you can, but where does your garbage ultimately end up? It all sounds ominous and guilt-inducing, but maybe I'm actually helping the subsistence farmer in Kenya by air-freighting his green beans to Britain so that people can enjoy that luxury in the winter months?
The British science writer Fred Pearce traveled over 100,000 miles in 20 countries to track down the sources of his stuff. His resulting book reads like a personal case study in globalization. He starts off by descending three miles into the earth to learn how a South African mine extracts the gold for his wedding ring. He wonders about fair trade coffee — "why should feeling virtuous come so cheap when it still leaves farmers so poor?" He tracks down supply chains and examines the environmental consequences of goods and services. He identifies various trade-offs, some of which we can choose and others that are forced upon us. Child labor, government subsidies, market inequities, technological innovations, Wal-Mart and the World Wildlife Fund all collide.
Pearce's personal case study reads like a travelogue that specializes in the economic, environmental, and ethical dimensions of virtually every aspect of your material life. What's not clear is how an "eco-sinner" might go beyond token gestures and genuinely "repent," whether that's even possible, and even if it is, whether it would make much of a difference for the Malaysian fish farmer or the Chinese factory girl who make subsistence wages to support my Western lifestyle.