Book Reviews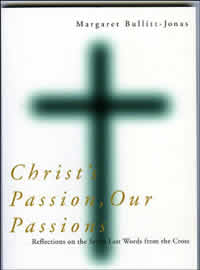 Margaret Bullitt-Jonas, Christ's Passion, Our Passions; Reflections on the Seven Last Words from the Cross (Cambridge, Massachusetts: Cowley Publications, 2002), 92pp.
This slender volume on the seven last words of Christ would be the perfect companion for the Lenten season in general or Holy Week in particular. Originally presented as a sermon series for Good Friday at Boston's St. Paul Cathedral in 2002, Bullitt-Jonas has added questions for prayer at the end of each meditation, making it ideal for personal reflection, adult Sunday school, small group fellowships, or any number of other venues. In the introduction she also suggests and explains three types of prayer one might use with her reflections—Ignatian contemplation, lectio divina, and what she calls "grounding in the cross." Bullitt-Jonas is an Episcopal priest, writer, environmental activist, retreat leader and spiritual director (she also earned her PhD from Harvard in comparative literature) who brings her considerable gifts, practical insights, and life experiences to bear on the last words of our Lord:
*Father, forgive them
*Today you will be with me in paradise
*Woman, behold your son
*My God, my God
*I thirst
*It is finished
*Father, into your hands
As she observes in her introduction, "when someone we love is dying, we hang on every word." While she examines these precious words of Christ, she urges us to let them examine us. In Barth's words, Scripture is just as much God's word about us as human words about him. Thus, in this little gem of a book Bullitt-Jonas points us not merely to theological information but to a deeper Christian formation.