Book Reviews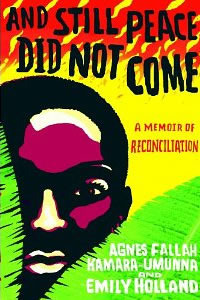 Agnes Fallah Kamara-Umunna and Emily Holland, And Still Peace Did Not Come: A Memoir of Reconciliation (New York: Hyperion, 2011), 302pp.
           For fourteen years civil war ravaged the tiny country of Liberia. In the first phase of the conflict (1989–1996), Charles Taylor and Prince Johnson overthrew the government of Samuel Doe, recording the grisly execution of Doe with an infamous videotape that later sold in Monrovia's marketplaces. Taylor was elected president in 1997, but two years later other forces ousted him. By some estimates, ten percent of the population was killed. Twenty-five percent fled the country. Starvation, systematic rape, torture, mutilation and Taylor's cocaine-crazed child soldiers who wore outlandish costumes are what most people remember.
           "For fourteen years," writes Agnes Umunna, "it was like the last day on earth." Umunna has written an eloquent testimony that bears witness to the horrific suffering. In the first third of the book she tells her personal story during those fourteen years. Taylor resigned in 2003, and today he is on trial at the Hague for crimes against humanity and war crimes. In 2005 Ellen Johnson Sirleaf was elected president, as the first woman head of state in Africa, and a Truth and Reconciliation Commission started a two-year study. Umunna is a self-effacing hero in the slow process of national healing. She started a radio program called "Straight from the Heart" ("your one stop guide to peace"), sponsored by the United Nations Mission in Liberia, that has been an instrument of reconciliation.
           On the radio program Umunna collected and told the stories of the war. She would interview a guest, and then people from across the country would call in with their responses. It was natural to give voice to the victims. What set Umunna apart, however, was that she also encouraged the perpetrators of violence to tell their stories, and in particular the child soldiers — the ways they were abducted and recruited, how and why they committed such atrocities, and how they felt about it now. She also built a community center and feeding program for the child soldiers and became their "auntie." Each chapter begins with first-hand narratives by both perpetrators and victims.
           Giving voice to the victims was one thing, but befriending the victimizers was quite another. For many Liberians it was cathartic; acknowledging what happened was a necessary (if not sufficient) part of peace. Others thought it outrageous. Still others considered it futile and a waste of time. For Umunna there are no easy answers or quick fixes, just hard questions and necessary compromises. What is forgiveness? How do you give and receive it? What are the steps to national reconciliation? Telling and listening to the stories is a way to begin. For a film version of the central role of women in Liberia's national reconciliation, see the documentary film "Pray the Devil Back to Hell."