Daniel B. Clendenin Ph.D.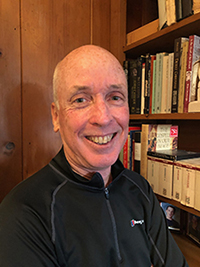 Dan Clendenin founded the Journey with Jesus webzine in 2004. He earned his Ph.D. from Drew University (1985). He then taught at William Tyndale College in Michigan (1985–1991), and at Moscow State University (1991–1995) in the former Department of Scientific Atheism. Dan joined InterVarsity Christian Fellowship at Stanford University in the summer of 1995 and worked with faculty and graduate students until 2003. He has traveled in 40 countries.
In 2012 Dan and his wife walked the 500-mile Way of St. James in Spain.
In 2014 they walked the 458-mile pilgrimage across southern France called "Le Chemin du Puy."
Dan's publications include the following books:
Many Gods, Many Lords: Christianity Encounters World Religions (Baker Book House, 1995).
Eastern Orthodox Theology: A Contemporary Reader, editor (Baker Book House, second edition, 2004).
Eastern Orthodox Christianity: A Western Perspective (Baker Book House, second edition, 2004).
Problems in Christian Philosophy, Dan Clendenin and Melville Stewart, editors (Moscow: Progress Academy, 1994) (available only in Russian).
From the Coup to the Commonwealth: An Inside Look at Life in Contemporary Russia (Baker Book House, 1992).
Scholarship, Sacraments and Service: Historical Studies in Protestant Tradition (Texts and Studies in Religion, Vol. 49), Dan Clendenin and W. David Buschart, editors (Edwin Mellen Press, 1990).
Theological Method in Jacques Ellul (University Press of America, 1987).